Books
The Family Meal Solution by One Handed Cooks
---
Sale price
$21.00
Regular price
$27.00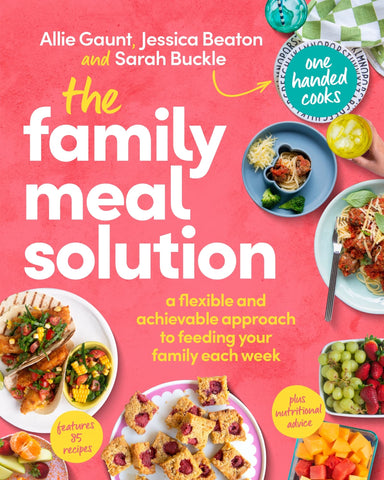 Preorder from Booktopia
*Specially discounted, signed copies available*
As busy parents ourselves, we were becoming overwhelmed by the daily struggle of feeding our growing families – trying to cater to different age groups and food preferences, from babies starting solids to ravenous school-aged children, and also wanting to enjoy flavoursome meals ourselves. We felt the need for a simple and adaptable guide that could help us optimise the pockets of time we had and assist our future selves in those busier moments.
While each family's routine is unique, there are similarities we can work with that will give you the confidence and the tools to take back control and simplify feeding the family. This book contains meal-planning guides and hacks, and more than 80 new family-friendly recipes that include baby and toddler notes and allergy and intolerance suggestions, to help you make the most of your time in the kitchen, stock your freezer and save money.
SHOW US THE CONTENTS
We wanted a collection of recipes that were versatile and provided leftovers. We wanted to fill our freezers and have a repertoire of fast meals that we could whip up as needed. Finally, we wanted to stop the expensive top-up shops, increase our veggie intake and offer varied and nutritious meals every week. Is that all too much to ask? We don't think so. Without further ado check out this list of amazing recipes:
Sweet and savoury snacks
Premixes
Slow cooker + dump bag
Dinner + leftovers
Batch cooking
Meals 2 ways
Tray bakes
Fast meals
Salads
Desserts
Make-in-a-minute marinades
PLUS! All our tips on baking boxes, fruit and veggie grab boxes and freezer and storage tips so you'll know exactly how to store the goodness.
This is an affiliate link to our very own book. The cost is the same for you but we receive a small commission. Thank you for your support.

Related Products
---